Royal Philips (NYSE: PHG, AEX: PHIA) revealed a portfolio of data driven radiology solutions at the 2015 Radiological Society of North America Annual Meeting (RSNA), beginning today through December 4 at McCormick Place in Chicago. Visitors to the Philips booth (#6736) will experience the company's broad portfolio of integrated Diagnostic Imaging, Clinical Informatics, Image Guided Therapy and Dose Management solutions to increase clinical performance, improve workflow and create a superior patient experience.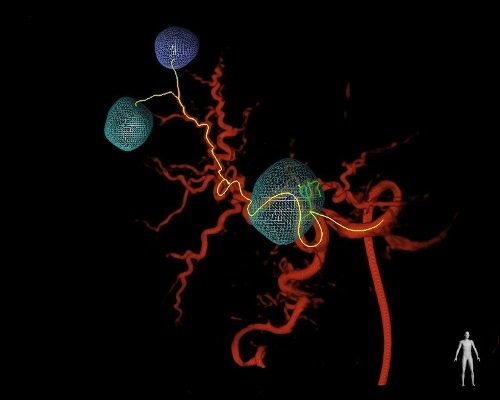 EmboGuide 3D live image guidance tool to see, reach and treat tumor lesions. (PRNewsFoto/Royal Philips)
Radiology plays an important role in helping detect and characterize disease at its earliest possible stages; assists in treatment planning and assessment; and helps in the management of overall patient care. Designed to help shorten the time between diagnosis and treatment, Philips' full range of radiology solutions in oncology, neurology and women's health are driving cost-effective, more consistent and higher quality care across the entire hospital enterprise.
"With advancements in data driven digital health technology, radiology has the power to significantly impact the way care is delivered, as it plays a critical role in the majority of healthcare decisions," said Robert Cascella, CEO, Imaging Business Groups, Philips. "By integrating advanced diagnostic imaging technologies with specialized informatics, Philips is helping its customers to enhance the diagnostic process, facilitate seamless collaboration and improve workflow efficiencies – all for the enhancement of patient care."
One of the leading global conferences for radiology, RSNA 2015 will showcase the industry's most promising research and cutting-edge innovations. Advanced technologies in the areas of Health IT, Ultrasound, Diagnostic Imaging, and Image Guided Therapy will be showcased in the Philips booth. The company will also debut new solutions in Dose Management, MR, Diagnostic X-Ray, Radiology Data Intelligence and Advanced Visualization.
Extending the Power of Radiology
Radiology can significantly impact the cost and quality of care through greater integration. From advanced solutions delivering improved images, to expertise in helping to improve workflow efficiencies, Philips technology, services and employee expertise are designed to enable radiology to do more. Key solutions and advanced technologies include:
Diagnostic X-Ray Suite  – Comprehensive imaging portfolio helps enhance workflows and patient care, including SkyFlow, DigitalDiagnost and MobileDiagnost wDR.
IQon Spectral CT – Industry-first spectral-detector CT delivers on-demand spectral quantification and tools, and the ability to characterize structure with simple, low-dose workflows. Philips will demonstrate Spectral Magic Glass on PACS, an integrated feature to review and analyze spectral data retrospectively on the PACS.
Ultrasound Portfolio – Product suite includes EPIQ and Affiniti ultrasound systems, enabling more confidence in diagnosis and improved workflow efficiency, enhancing the patient experience. Additional areas of focus at RSNA 2015 include Lumify, the innovative Ultra Mobile Ultrasound solution that expands the reach of the radiologist, and OmniSphere, a new server-client based ecosystem of tools, applications and solutions to help increase business efficiency and optimize operations.
Vereos Digital PET/CT – Industry's first and only digital PET/CT offers approximately twice the volumetric resolution, sensitivity gain and quantitative accuracy compared to analog systems.
Image Guided Therapy – Philips will feature tailored interventional X-ray suites – NeuroSuite, OncoSuite, and Hybrid Suite – leveraging AlluraClarity  technology and, the latest innovations within the Suites, including EmboGuide  and   VesselNavigator, to address the need for an enhanced 3D imaging solution to support interventional oncology and vascular procedures. Volcano, a Philips business and the global market leader in intra-body imaging and sensing technology, will showcase its integrated offerings related to peripheral vascular disease.
Empowering radiology to impact entire healthcare institutions and practices
Radiology plays a crucial role in the majority of healthcare decisions, helping to deliver fast results for more timely patient care, improved radiology reports and analytics for informed clinical decisions, and access to clinical informatics across the enterprise. Highlighted products and solutions include:
IntelliSpace PACS – Enterprise image management platform delivers on-demand diagnostic-quality images and patient information to help the care team make informed clinical decisions, improve operational effectiveness, drive financial performance and enhance patient care and satisfaction.
IntelliSpace Portal – One of the most comprehensive solutions for problem detection, diagnostics, and therapy follow up, IntelliSpace Portal offers a full suite of tools to increase accuracy of quantitative measurements and reproducibility, decision support tools to boost diagnostics confidence.
Serving the patient
Philips is focused on shortening the time between diagnosis and treatment to treat cancer quickly and with more accuracy, while empowering patients to be better informed, enabling them to take greater ownership of their health with integrated solutions including:
DoseWise – Industry's first integrated radiation dose management solution to enable health care providers to proactively record, analyze and monitor imaging radiation dose for both patients and clinicians across multiple diagnostic settings.
Mammography Suite – Portfolio delivers superb performance and image quality from screening and diagnosis to monitoring, featuring MicroDose SI and   IntelliSpace Breast .
Philips' MR in-bore experience – Technology helps to improve the patient experience and utilizes AutoVoice and ComforTone to turn the patient exam into an event. Ingenia 1.5T S  is designed for first-time-right imaging and increased patient comfort for a faster workflow;
Philips will also host and participate in several RSNA events focused on integrating patients, practitioners, and process with technology, in addition to several research presentations.
Symposiums
Mammography Lunch and Learn, Tuesday, Dec. 1,

12:30-1:30 p.m.

, in the South Building, Room S403A – Session will explore the potential of photon counting technology for spectral mammography and tomosynthesis , including details of a clinical study in progress.
MMTT/qEASL Symposium, Tuesday, Dec. 1,

6-8:30 p.m.

, at the Navy Pier – Philips physician partners from Yale University, MD Anderson and Charité Berlin will discuss the concept of volumetric measurements as a tool for response assessment in cancer treatment.
Diagnostic Radiology Lunch and Learn, Wednesday, Dec. 2, 12:30-1:30 p.m., in the South Building, Room S403B – Dr. Detlef Mentrup, inventor of SkyFlow technology, will discuss new algorithm applications for diagnostic radiology.