The value of a breast MRI exam as a tool for planning the treatment of women diagnosed with breast cancer is not disputed. But this expensive imaging procedure is not needed for every case of newly diagnosed breast cancer if ultrasound and/or mammography images clearly show the extent of the disease. In fact, attendees at the recent AIUM annual meeting were cautioned, MRI significantly overestimates tumor size.
Rebecca Leddy, M.D., co-director of breast imaging and assistant professor of radiology at the Medical University of South Carolina (MUSC) in Charleston, and colleagues conducted a retrospective review of mammography, ultrasound, and MRI findings of patients with newly diagnosed in situ and invasive breast cancer patients who received treatment at MUSC between January 2008 and March 2012. The primary objective of their study was to assess tumor size accuracy.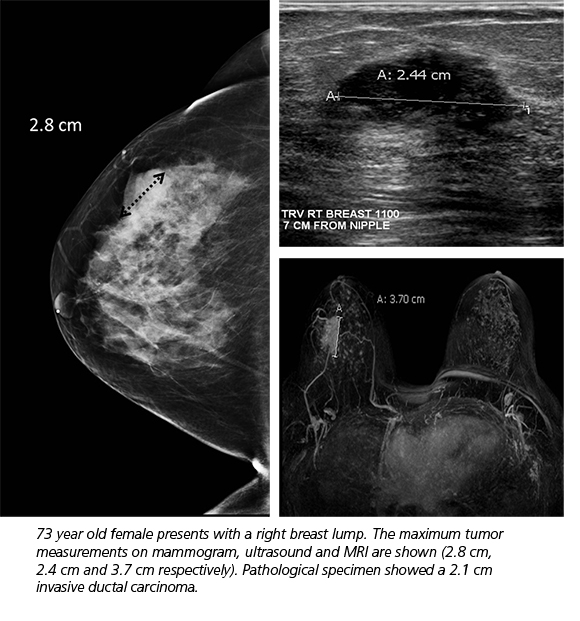 In a study that used a very stringent inclusion criteria, a total of 57 patients had had all three exams performed preoperatively, followed by a wire localization excision for breast cancer. None of these patients had positive surgical margins or needed neoadjuvant chemotherapy.
The research team noted maximum tumor size recorded for each type of imaging procedure, and compared this with pathology results. They analyzed tumor size differences for the entire patient cohort, as well as by breast density and tumor type. Patients ranged in age from 37 to 81 years (mean 63.2 years). About two thirds were Caucasian. 43.9% had dense breasts.
"Our study showed tumor overestimation by MRI in 68.4% of the cases, whereas there were no statistically significant differences with the pathology with ultrasound and mammography. There also were no significant differences between the patients with dense and non-dense breasts especially in terms of MRI tumor overestimation. However, there was significant difference between ductal and lobular cancers. MRI significantly overestimated tumor size in ductal while slightly underestimated tumor size in lobular cancers," Dr. Leddy told Applied Radiology.
"Accurate clinical and pathological tumor size assessment is essential for preoperative cancer staging and treatment planning. At our institution, we stratify the patients who undergo breast MRI for newly diagnosed breast cancer based on age, risk factors, treatment plan of neoadjuvant chemotherapy, breast density, tumor type and location. This study confirms our belief that every patient does not need a MRI. Similar published studies have show similar results to ours, but they used vague methodology. The finding that surprised us was the extent to which MRI overestimated tumor size," she concluded.